Burgtec Minnaar Signature Grips & MK4 Composite Pedals
Posted 4th April 2019
Burgtec makes all things to make your bike rad - bars, stem, grips, pedals, chain rings, and they have some pretty cool socks and jerseys too! 
Over the last 5 years we have ridden product from a bunch of brands and we keep going back to Burgtec for contact points - the MK4 alloy pedals are world class, as are their stems and bars. In the past couple of days Burgtec have gone on a bit of a charge and released two fantastic products at entry level pricing, they are the Composite Pedal and the Signature Minnaar Grip. 
Signature Minnaar Grip
The grips have been developed over the 2018 season with Minnaar, the grip is a single lock on and uses the the same ultra thin tapered core as other grips in the Burgtec range - the grip is a 31.5mm diameter. 
On the trails the grip just feels right, and the pattern on the grip is a series of mushroom ridges. These ridges when wearing provide a much longer lifetime than other grips priced at this level and as the wear happens more grip is produced by the Minnaars. They feel nice and tacky and we haven't slipped on them in the recent 2 days of winter rain! 
At the £19.99 price point it is a tough market but we reckon these grips are above the rest and worth a try - you can head to the Hub to see, touch, feel, squish the range of colours. 
8 colours are available to match your riding steeze:
- Burgtec Black
- Race Red
- Deep Blue
- Purple Rain
- Gum
- Iron Bro Orange
- Electric Yellow
- Nasa Grey
The Techy Stuff
31.5mm Diameter
25A Rubber Compound
Single Lock On
Tapered Core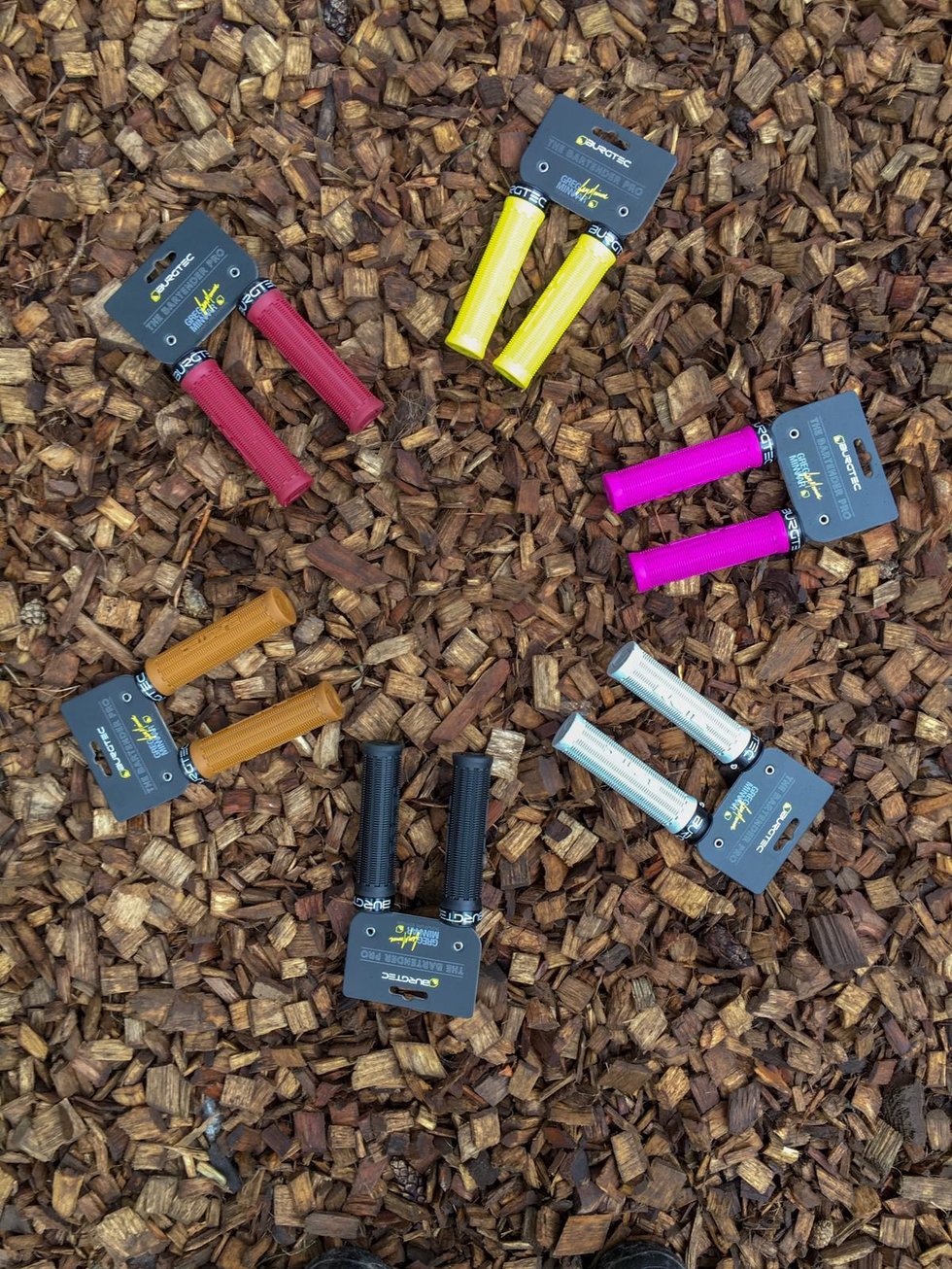 MK4 Composite Pedal
The Composite pedal is basically the same form factor as the alloy MK4 pedal which is flawless. The composite is slightly deeper but this is negligible and the composite has a slightly longer axle which actually works very well. The pedals are fully serviceable, have 16 threaded pins which are replaceable and there are loads of colours. 
Riding the Composite pedals feels just like the alloy big bother pedals but they are £39.99 not £99.99. There are other composites on market but they simply are not as refined as this Burgtec pedal, nor offer the long term relationship the Burgtec does having full servicing and replaceable pins. The MK4 has a great concave to it which attaches the foot with supreme confidence and the actually body is not too big, not too small and pedal slip is incredibly rare if not non existent when matched to a proper riding shoe. We tested these pedals with a Riddance from Giro and it worked very well with you being able to shift your foot if needed, but stay connected. 
All and all - as Doddy says on the GMBN review - "bargain of the century?" 
Burgtec Composite Penthouse Mk4 specifications
Material: Recyclable nylon/fiberglass composite
Platform size: 101mm x 96.8mm
Profile: 17.96mm
Axle: SCM415 Cromo
Pins: 16 x 16mm pins per pedal
Dish: 2.8mm
Bearings: 1 x bearing race, 1 x split bushing
Weight: 380g pair
Colours: yellow, blue, white, purple, brown, red, black, orange
Price: £39.99
The MK4 pedals are available in store - both in Alloy and Composite form!